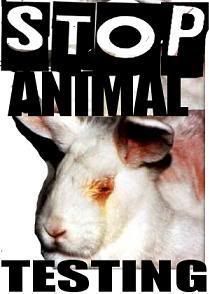 I was watching one of my favorite childhood movies "Fluke" when a scene involving cosmetic testing on animals. A light ball went off in my head. I was aware about fur, leathers, suede, etc. and how I am totally against it. But what about animal testing? Isn't it just as bad, if not worse?
I did my research and I have decided to change all of my products to animal friendly products. I suggest everyone does the same. Below are a list of some but not all of the animal friendly cosmetics. Trust me there are a lot:
Almay
Kate Spade
Stila
Avon
Kiss My Face
Victoria's Secret
Bath and Body Works
La Mer
Bobbi Brown
Liz Claiborne
The Body Shop
M.A.C.
Botanical Skin Works
Mary Kay
But's Bees
Ojon
Clinique
ONE Group
e.l.f. cosmetics
OPI
Estee Lauder
Palmers
Flirt!
Smashbox
Again, there are a ton of other products. Visit sites like
leapingbunny.org
and
mymakeupmirror
. Or just Google it! Get informed! Animals have rights too.
Not so pretty right?